Posted on August 1, 2023
Author: Tether Admin
Categories:
How PayPal became the world's biggest fintech giant? 
Have you heard about PayPal before? The answer must definitely be a Yes!  
PayPal is the largest and most valued fintech in the world. Two decades ago, PayPal started out with ideas, prototypes, and a creative founding team.   
PayPal has around 432 million merchant and consumer accounts. It has also processed 5.6 billion transactions till date.  
PayPal caters to B2B and B2C sectors globally. Individual users can make secure payments online, request payments, and even checkout deals offered by various brands. The company also offers a complete payments solution for merchants.   
But how did PayPal become so successful? How did they onboard millions of customers? How has PayPal grown leaps and bounds considering the competitive landscape?  
It all started with… 
The focus laid on making money work better, easier & faster. From 1998 till now, PayPal has reached numerous milestones. PayPal's success stems from a simple strategy which is its innovative approach to product building and delivery. Also, their creative solutions helped them build a strong reputation. 
Innovation, realignment, and improvisation has been a major contributor to the company's growth.  
Let's decode PayPal's global dominance and its rise to the forefront of the payments industry. 
Journey of PayPal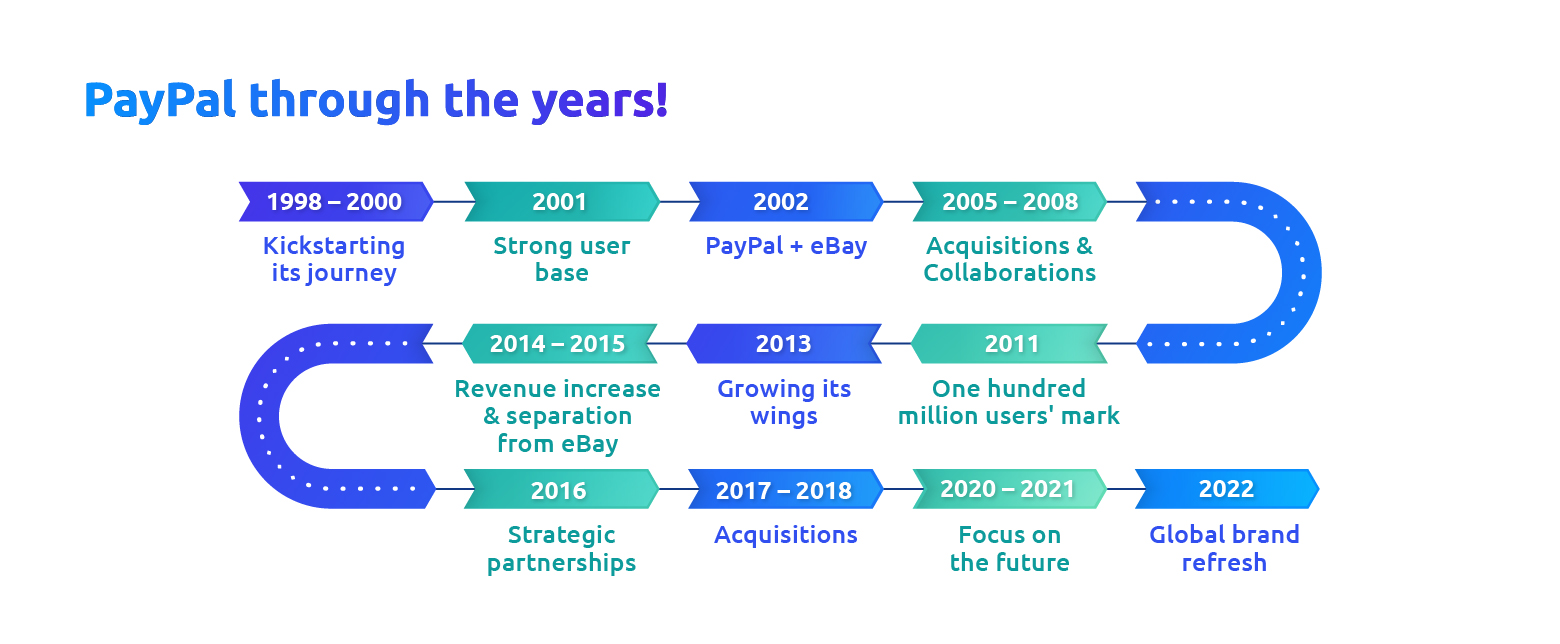 From Confinity to beyond! – 1998 – 2000 
It all started with a prototype. Co-Founders Luke Nosek, Max Levchin, and Peter Thiel established Confinity, a company that primarily developed security software then moved onto developing digital wallets. Confinity then merged with an online financial services company known as X.com that was co-owned by Elon Musk and Bill Harris.  
Both Confinity and X.com together focused on building and offering products. Soon after the company was renamed PayPal and focused on creating the world's first digital payment platform. Elon Musk was one of the early investors in PayPal and served on the company's board of directors during its growth into a major player in the online payment industry. Soon after, he exited PayPal to pursue other ventures. 
Millions of users – 2000 – 2001 
In 2000, PayPal reached its 1 million user mark. PayPal grew from 12,000 to 2.7 million accounts, at a 224,000% increase. Then, vigorously to more than 9 million users in 2001. The company was also processing over 120,000 transactions every day at this point of time.  
PayPal + eBay – 2002  
The years that followed were PayPal's most fruitful and were known as the 'Rising Era'. PayPal went public, joined eBay, and its stock grew to 55% on NASDAQ. eBay bought PayPal for $1.5 million, and PayPal became its official payment provider. PayPal's global popularity grew, and it became the first choice for money transfers.  
Notable Acquisitions & Collaborations – 2005 – 2008 
In 2005, PayPal acquired VeriSign payment solution to offer additional security support. In 2007, PayPal partnered with Mastercard and offered PayPal Secure Card Service. In 2008, PayPal acquired Bill Me Later which was renamed as PayPal Credit.  
One hundred million users mark – 2011  
In PayPal's journey, the milestone of reaching 1 hundred million users highlighted its global appeal and adoption. At this point, PayPal was democratizing financial services for everyone in over 190 countries and 25 currencies.  
Expanding its wings – 2013 
The payment provider continued to expand since its global adoption rose significantly over the past few years. A new era had begun, as PayPal acquired Braintree payment gateway for $800 million. The company also acquired Venmo. The company also launched PayPal Working Capital. These acquisitions helped PayPal gain foothold in online and in-app shopping, simplify money transfers, and offer faster capital to businesses as well.  
Separated from eBay – 2014 – 2015 
A turning point in PayPal's history. The company became independent from eBay and PayPal saw a tremendous boost in its market value that grew to $49 billion in its official first trading day since separation from eBay. The company saw a 16% revenue increase and 20% increase in its transaction value. PayPal also bought Xoom money transfer technology for $890 million and Paydiant for $280 million and acquired Modest.  
Partnerships – 2016  
PayPal began partnering with Visa Inc. to expand consumer payment options. The company has over 40 strategic partnerships with global giants at this period. PayPal has partnered with numerous banks, card networks and issuers, and financial institutions such as Bank of America, Banorte, Barclays, Citi, HSBC, JPMorgan Chase, ShinhanCard, Wells Fargo, American Express, Discover, Mastercard FIS, Paymentus and Synchrony. 
Acquisitions – 2017 – 2018 
PayPal added a few more firms to cater to new markets and improve their solutions. The company acquired Swift Financial to cater to small business financing solutions. PayPal also acquired Zettle, Hyperwallet, and Simility.  
Focus on the future – 2020 – 2021 
PayPal acquires Honey to create rewarding shopping experiences for users. PayPal wanted to address and eradicate the racial wealth gap and wanted to support Black, underserved, and minority businesses in the US. They deposited $535 million for this. PayPal and Venmo launched their new digital wallet services for people to manage their finance. The company introduced Checkout with Crypto, and acquired another company called Paidy. 
The present – 2022 onwards  
More than two decades of its journey, PayPal has become a global payment powerhouse and is used widely in the market, making it the world's safest and most reliable online payment gateway.   
Strong user foothold  
 PayPal has definitely risen up to be a payment giant as is evident by the number of users the company has globally. In 2021, the number of users was estimated to be 195,2 million, with a slow and rapid increase thereafter. 
The user base is forecasted to reach 223.3 million with a 6.7% rise in 2023, and to 236.7 million with a 6% rise by 2024. The company is expected to increase their user base to 249.9 million globally with a 5.6% increase by 2025.  These incredible figures represent the solid foundation of the company's operational success. 
Dominating the digital payment market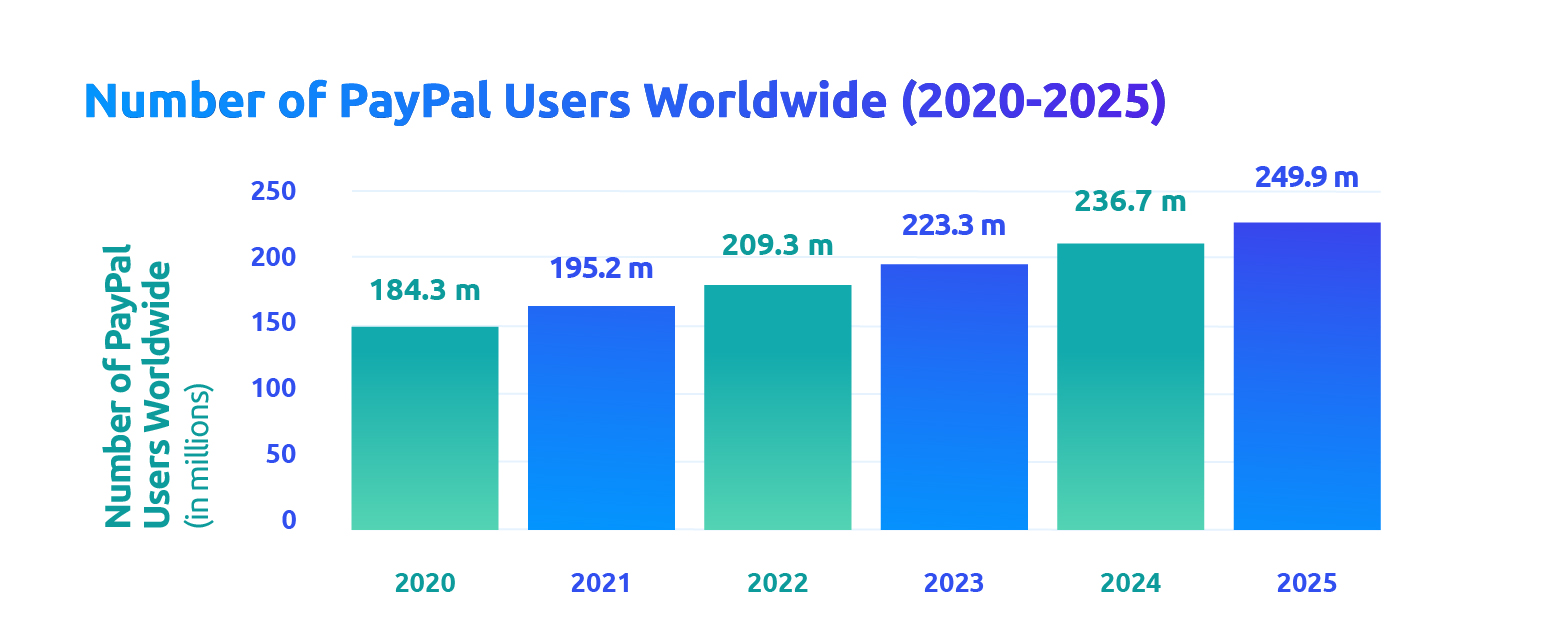 When we look back, PayPal's popularity is increasing, especially in the digital payment market. Back in 2020, PayPal was used by 7.8% of all digital buyers globally. In 2021, these numbers increased to 7.9% and to 8.2% in 2022. We can see a notable increase over here.  
This growth is neither stopping nor lagging behind! It is also estimated that the penetration of the company will continue to increase in the upcoming years and reach 9.1% by 2025. This proves the company's growing prominence in the digital payments industry.  
Rising as the payment pal  
There was a stigma around paying for things online ever since the 90s. As users, it took some time and a good experience for users to trust anything that's new. PayPal broke all stigmas and certainly proved to be a frontrunner in digital payments over the past 2 decades.  
The company has successfully penetrated several global markets as well. The decrease in the demand for cash, the boost faced by eCommerce, and the growing adoption of digital payments have been significant contributors to the company's growth. 
 Numerous factors have contributed to the success of PayPal.  Numerous factors have contributed to the success of PayPal. The company had a global brand redesign in 2022 and now focuses on leveraging financial services that connect people and businesses in over 200 markets worldwide. 
And that is how PayPal became a global payment giant!  
If you're an entrepreneur looking to start a fintech business, don't miss out on the benefits Tether Community has to offer. With our resources and experts, we can help turn your start-up idea into a successful reality.  
Join Tether Community today and take the first step towards building the fintech business of your dreams.