Posted on November 11, 2022
Author: Tether Admin
Categories:
The Rise of Buy Now, Pay Later Industry Post-Pandemic
The 2020 global pandemic propelled significant changes in most industries. Buy Now, Pay Later (BNPL) was a great revolution within the FinTech industry, and surprisingly it's still a big thing in the post-pandemic period.
According to a study by The Ascent, 55.8% of consumers used BNPL services in 2021. Another report (The Covid Era of Rising FinTech) by RazorPay depicted that BNPL transaction volume in India spiked by a whopping 637% from 2020 to 2021. BNPL is one of India's fastest-growing credit options. In this post, we explore the states of the BNPL model, key players, and its future.
The State of the BNPL Market in India
BNPL payment model was a big disruption in the global economy during the pandemic. Still, it has proved to have great growth potential over the period. The Indian market has keen players in the BNPL market, whereby BNPL service providers allow consumers to buy products and pay them off over time.
An Indian research firm Redseer vindicates that the Indian FinTech market, specifically the BNPL market, has seen significant traction due to ever-evolving credit needs, its enhanced ease of use, and discounts/ rewards. Further, a publication by Reuters outlined that Redseer estimates India's BNPL market to grow from US 3-3.5 billion to US$45-50 billion by 2026. It also estimates a considerable increase of BNPL users within the same period from 10-15 million to 80-100 million users.
The fact that consumers can easily access credit for the first time with less hassle is a great boost to the popularity and growth of the BNPL market in India. A global payment report by Worldpay showed that BNPL is the fastest-growing payment method for e-commerce in India.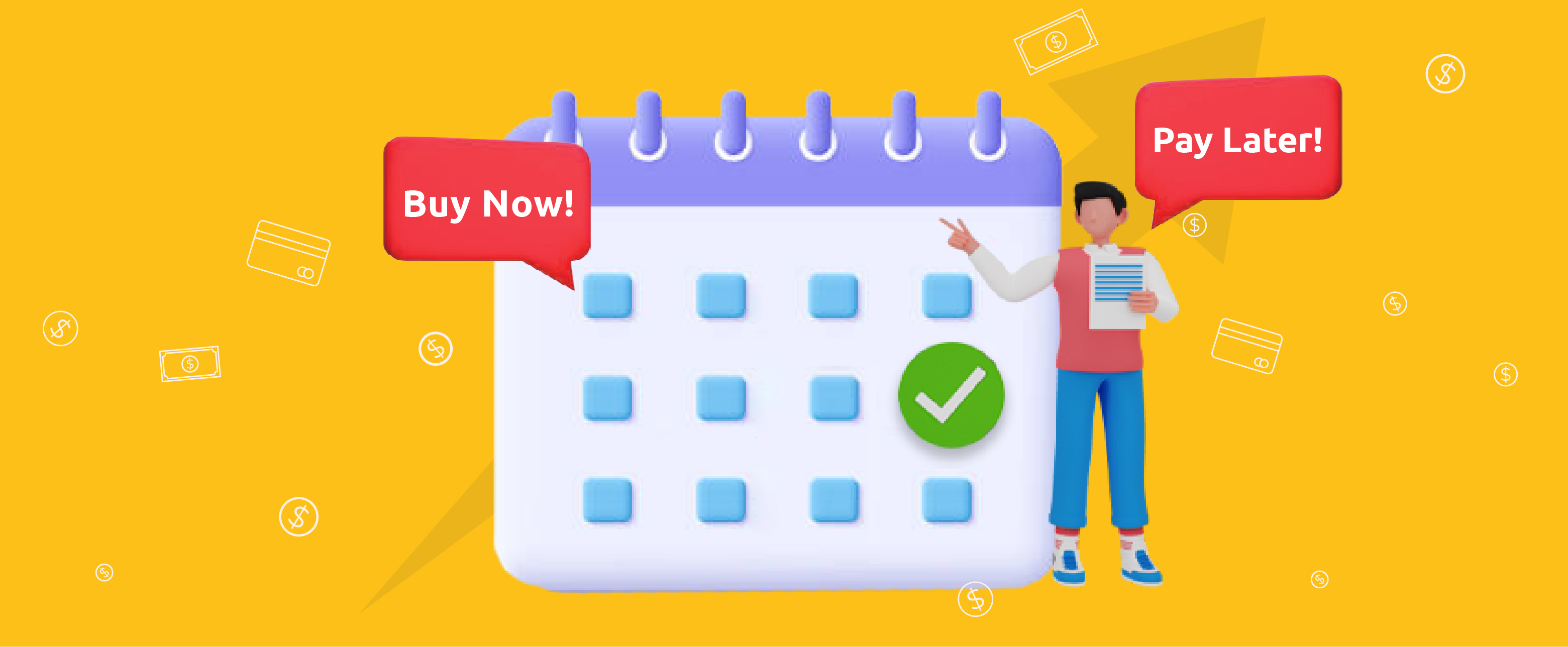 Factors Accelerating Adoption of Buy Now Pay Later (BNPL) Model in India
The BNPL model has been adopted faster, especially in the post-pandemic era. So, what is driving the increased growth and popularity of the BNPL market in India? Here are the accelerators:
Change in consumption patterns
The global economy was highly affected during the pandemic, and consumers' purchasing power was drastically reduced. As a result, the BNPL is a more flexible alternative for such consumers in the e-commerce sector. This model has allowed them to buy goods beyond their purchasing power.
Additionally, millions of consumers shifted to online shopping during the pandemic, whereby e-commerce websites and apps had already introduced the BNPL payment options.
Significant growth of the eCommerce and digital payment market
The eCommerce market cannot be ignored when discussing the growth of the BNPL market. eCommerce websites and apps have highly embraced and utilized the BNPL model to serve products and services to their respective customers.
Additionally, millions of consumers have profoundly embraced digital payments, which contributes to the growth of the eCommerce and BNPL markets.
Interest-free credit
Consumers appreciate that their purchases on credit are interest-free, which has attracted millions of consumers to adopt BNPL payments. This model is an added boost to the aspirational young salaried professionals and a larger section of the middle class.
Demographical factor
Many consumers using BNPL services are the Millennials and Gen Z. A survey by ZestMoney, showed that most consumers using BNPL services were23-26 years age group. It also showed that the number of millennials and Gen Z customers using the BNPL option increased 2X and 3X respectively in 2021 compared to 2020 across India. Growing brands are targeting these demographic groups and incorporating BNPL solutions at checkout.
Key BNPL Players in the Indian Market
India is among the fastest-growing FinTech markets, and BNPL is key to its growth. India's BNPL market has gained traction and even attracted global firms such as Zip to invest and acquire a stake in a local BNPL brand ZestMoney.
However, a number of Indian BNPL brands are dominating this market, and a few traditional banks and payment giants are joining the bandwagon. They include:
ZestMoney
ZestMoney is an Indian FinTech company that offers BNPL services whereby users can shop online and pay back later in small installments with zero interest.
Simpl
Simpl is a mobile-based platform that offers instant account approval and allows users to make online purchases with one tap on credit. Its payment is interest-free and is paid every 15 days.
LazyPay
LazyPay provides a "cocktail" of what ZestMoney and Simpl got to offer. This platform allows users to shop online with one tap and clear dues every 15 days. It also provides loan options of up to INR 100,000 with minimal documentation.
Paytm Postpaid
Paytm Postpaid is another leading BNPL player in India. It allows users to shop online and clear their balance next month. Paytm Postpaid gives access of up to INR 100,000 to its customers. However, they charge a convenience fee of 0-3% of the net monthly spending.
Flipkart Pay Later
Flipkart Pay Later gives its users instant credit within seconds and 35 days of repayment tenure. Most importantly, customers can pay the minimum due amount on or before the 10th of each month.
Flexmoney
Fleximoney operates InstaCred, a platform that enables merchants to offer instant consumer credit, i.e., Pay Later at every Point of Sale (POS). It also enables banks and other lenders to offer financing options on online platforms.
MobiKwik
MobiKwik offers ZIP pay later option, a credit offering for users to pay bills and shop online. The loan is interest-free.
Among other BNPL players in the Indian market include Capital Float, Amazon Pay Later, OlaMoney Postpaid and EPayl.
The Future of the BNPL Market in India
There is no doubt that the BNPL trend has great potential, and it will keep growing in the Indian market. Additionally, we expect more BNPL startups to join the game as more funding is raised. More businesses are also likely to adopt this model to attract and retain customers. Also, we cannot ignore the growing use of Blockchain technology and its integration with the BNPL systems.